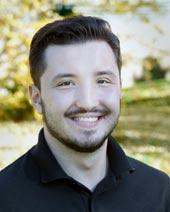 Mavericks Water Polo Club would like to congratulate long-time Maverick Bogdan Dubrovskiy for assuming the position of Head Coach.
Coach Bogdan Dubrovskiy has been a part of the herd at Mavericks Water Polo Club since 2009 where he began as a competitive athlete. He began coaching in 2012-2013 and has since held various roles within the club, starting as an assistant coach with the development groups (2012-2014), Women's Head Coach (2014-2019) where he lead the Mavericks Women's Program to their 1st ever Senior Women's National Championship, and currently holds the role of Men's Head Coach (2020-current).
His undergraduate degree lays in Kinesiology and Physical Education from the University of Toronto. He has completed an intensive 4 year graduate degree and holds the title of Doctor of Chiropractic, and currently is pursuing a Clinical Sciences Fellowship and Master's Degree in Integrated Health Policy and Education through the University of Toronto.
He currently works within the realm of Chronic Pain with Ontario's top specialists in Image-Guided Pain Injections and Procedures as a MSK-Specialist and works in multi-disciplinary based settings at St. Mikes, Mount Sinai and Toronto Rehab Institute as a Chiropractor through his Clinical Sciences Residency.
Bogdan is the Head Coach of the Junior Men's Canadian National Team Program and has been a part of numerous National Team Programs in the past:
15U NT – Riverside, California
17U NT – Peru, Lima (Youth Pan Ams)
17U NT – Port of Spain, Trinidad and Tobago (Youth Pan Ams)
18U NT – Szombathey, Hungary (Youth World Championships)
20U NT – Kuwait, Kuwait (Junior World Championships)
Senior Men's National Team – Numerous Training Camps
He has a tremendous passion for coaching and athlete development and is looking forward to the opportunity to lead Mavericks to continued success and growth. He is especially grateful for the friendship and mentorship he has received from Coach Nishant Damani during his time at Mavericks and wishes him nothing but continued success and happiness in his professional and personal life.